Word on the block is that Hitcents is going on a pretty sweet field trip—to PAX East 2019! Come see us March 28th-31st in Boston at one of the largest gaming conventions in the world. We'll be stocked up to our faces with neat goodies, as well as having NINE whole game demos for expo goers to play. So, be sure to meander by Booth #21019 (we've included a copy of the map below!) and check out all these awesome things. Crisp high fives and hand sanitizer will also be doled out in surplus.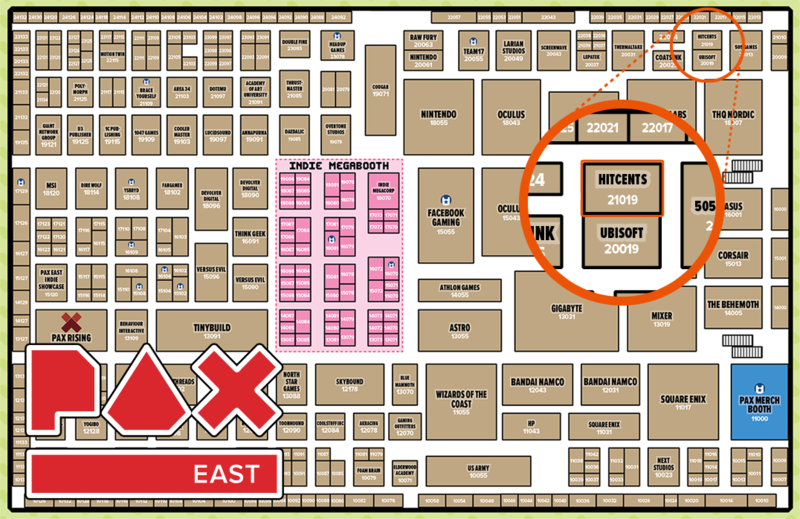 Games we're bringin':

One of the really cool things about our trip to PAX East is that we're going to have the devs of FIVE of our games with us! You'll have the opportunity to learn about these fresh titles right from the mouths of their creators. To schedule a meet 'n' greet, interview, etc. with the devs, or us, fill out THIS FORM with your info and we'll happily work you into our day.
Hitcents is pretty pumped to have the opportunity to bring such a diverse game spread to something as HUGE as PAX East! An additional mission of ours while we work this behemoth event is to meet and connect with amazing new game developers and content creators. We love supporting the growing indie game community however we can and also greatly enjoy working with streamers. If you are a game developer or streamer and would like the opportunity to meet and greet with the team while we're partying up in Boston, you can fill out this form to schedule a meeting, or just swing by Booth #21019!
To stay up-to-date on our news, hear neat things before we tell anyone else, and chat directly with us about our games, life, and memes, join our Discord! You can also follow us on Twitter. If you're at PAX East this year, be sure to swing by to see us! There may or may not be a booth shark.