PAX East 2019 has officially concluded and our team is left happy and exhausted. This is one of the largest gaming conventions Hitcents has had a booth at - as you can imagine, there was a healthy amount of flying by the seats of our collective pants, but also loads of research, planning, and preparation in the short amount of time we had to do so. Here's a collection of our experiences with one of the biggest gaming conventions in the US.

TUESDAY: Orange Team Alpha Arrival and Pre-PAX East Set-Up
The first half of our team landed in Boston in the wee hours of Tuesday morning, snagging an Uber to our Airbnb to steal a few hours of sleep. The Airbnb was amazing for our larger group, running at about half the cost of hotel rooms for us all. It also had three whole bathrooms, which is really important. We arose Tuesday morning, getting to the convention center around 10am with the intention of beginning set-up. That was not the case, however, as the teams who do carpeting and electrical hadn't made it to our booth just yet. After milling about for an hour or so waiting for action, we decided to adventure into Boston to purchase some needed things for the booth. We went to a Target because we're basic (and it was the closest general store).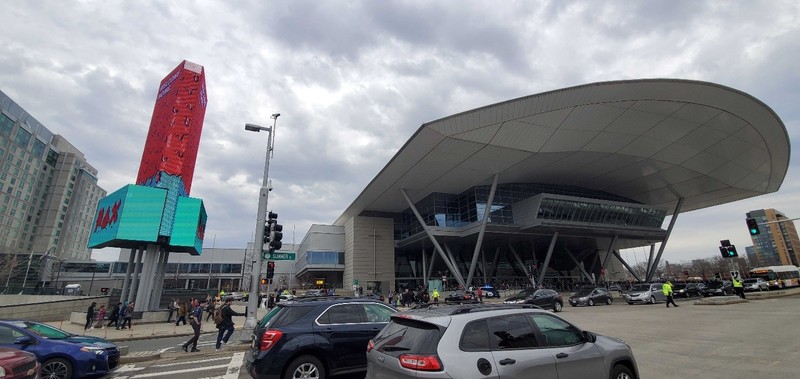 The expansive Boston Convention and Exhibition Center provided ample room for the tens of thousands of attendees.
Equipped with Lysol wipes, hand sanitizer, some waste bins, and plenty of snacks, we returned to the convention center around noon to actually begin setting up. Quickly, we realized that we were in desperate need of scissors, which were supposedly packed in an unidentified box lovingly shrinkwrapped onto one of our three pallets. Opening boxes with our raw animal strength would have to suffice until scissors were located. Spoiler: they weren't located until we had no real need of them. This resulted in a ton of small cuts on our hands that reminded us of what we had sacrificed for our booth every time we used hand sanitizer.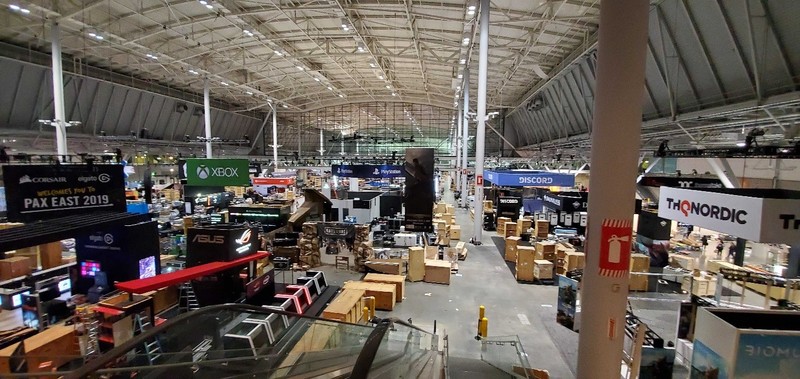 Our first look at the expo floor. Cluttered with pallets and boxes, this sight filled us with all the excitement of a kid waking up on Christmas morning.
Because of our Marketing Manager and Studio Head's careful planning, the booth layout was already thoroughly mapped out. With all the speed and precision of professional IKEA furniture builders, we managed to put together all of the booth furniture and arrange it as planned. After stacking all of our empty boxes back into the booth so they wouldn't be tossed, we called it a night to go get our grub on. Dinner was at a very small restaurant called Yankee Lobster that was about a 10 minute walk from the convention center. It was the fried deliciousness we all needed after a long day.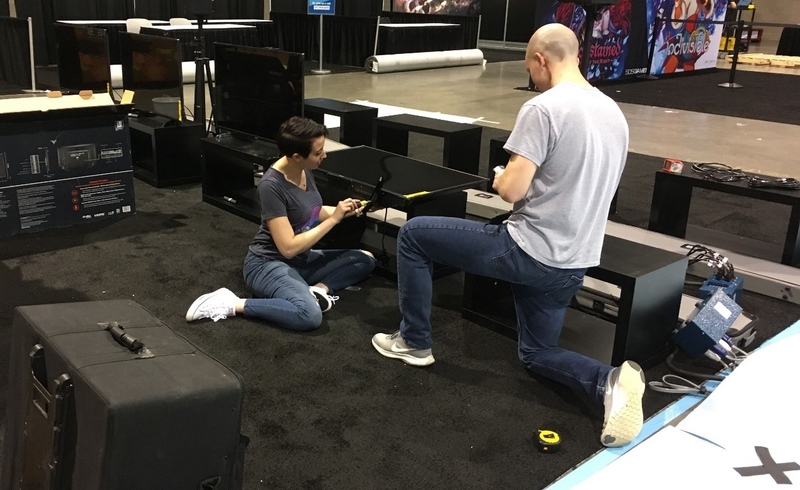 Since we only had one screwdriver, we had to put things together assembly-line style. It worked surprisingly well.
WEDNESDAY: Orange Team Beta Arrival and Pre-PAX East Set-Up
The second half of our team arrived the same way we did - slinking into the Airbnb in the small hours of Wednesday morning like sleepy thieves in the night. Unfortunately, their flight had been delayed some time, so Orange Team Alpha quietly rolled out around 9:00am, leaving Orange Team Beta to their beauty sleep. Wednesday morning was spent sorting thousands of pins, stickers, and art cards into their designated areas (adorning the stands in front of the TVs, stashed in fabric cubbies under the TVs, and stored in the ottomans in front of their respective games' demo stations), setting up the banners, and reloading the pallets with all of our empty boxes for the convention center to whisk away until the conclusion of PAX.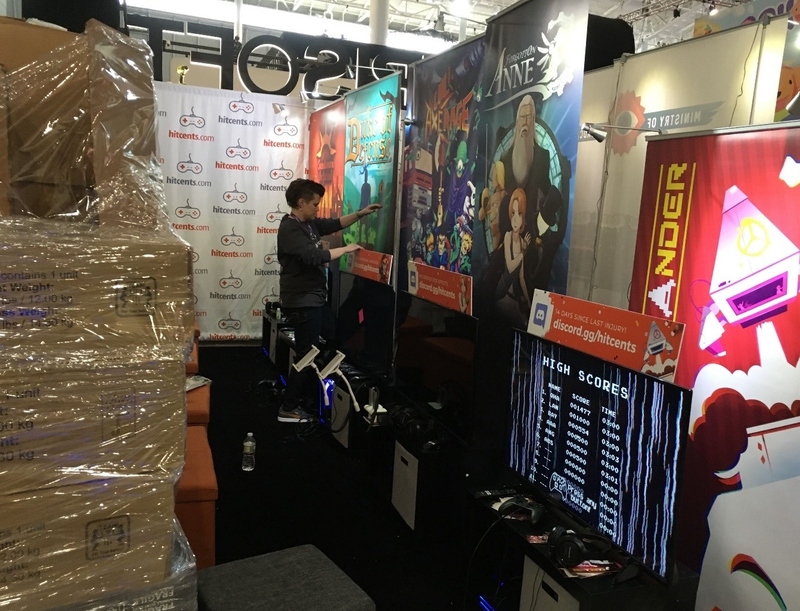 Due to some of our neighbors pallets being delivered in front of our booth by mistake, set-up Wednesday was a little cozy.
Beta team arrived around noon, at about the same time as the laptops we were renting to run most of our demos. Thus began the long and arduous journey of demo uploading and testing. Things we discovered very quickly:
Test demos before going to PAX for any glaring issues. Unfortunately, we as well as our devs, had a huge time crunch going into PAX and most of the demos weren't in our hands until the Sunday and Monday preceding PAX. This led to a string of issues we could have prevented if things had been more timely.
Make sure you have all the right power cables, an appropriate amount of outlets, and any necessary computer accessories. We had to have yet another trip to the store (an even BIGGER Target than before) to obtain many of these items, as well as more snacks. On that note, don't use your unbridled strength when opening new packages containing valuable computer accessories with scissors. You may accidentally snip straight through a wire or two. And so commenced another trip to the store.
If you have multiple, closely-spaced TVs, ditch the remotes. Using the remote, no matter how close you were to the intended TV, would almost always interact with its neighboring TVs as well. Just use the buttons to do all the things.
Get longer power cables for tablets.
Many hours later, we concluded the day with feedback for our devs to quickly tweak the demos for Thursday morning, a dinner of delicious seafood at Summer Shack, and a few light beverages before bedtime.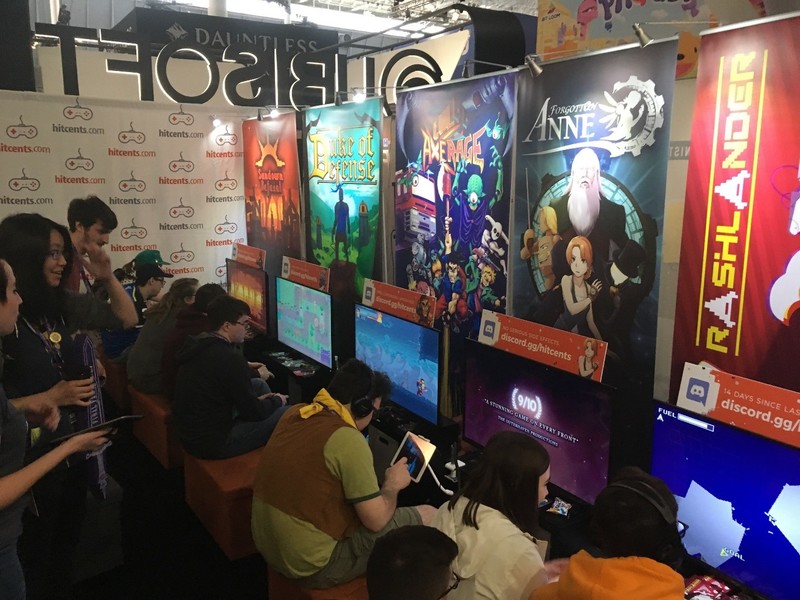 Side A of the Hitcents booth. Our demo-centric indie booth was steadily busy right from the get-go.
PAX EAST: Our Experiences and What We Learned
Day one of PAX East started early Thursday morning, with the press hour at 9am and general attendees released into the wilds of the showfloor at 10am. Traffic to our booth was steady all weekend and we were all there to greet and chat with all the PAX goers. Also, we finally got to meet all of our devs! The ones that were able to make the trip to PAX anyways. Many of the devs hung out at the booth with us most of the time, preferring to interact with the people playing their demos and getting to see firsthand how they responded to their game. It was incredibly eye-opening and helped us all learn more about how the games would be perceived by the public, allowing us to note what worked and what didn't for each demo.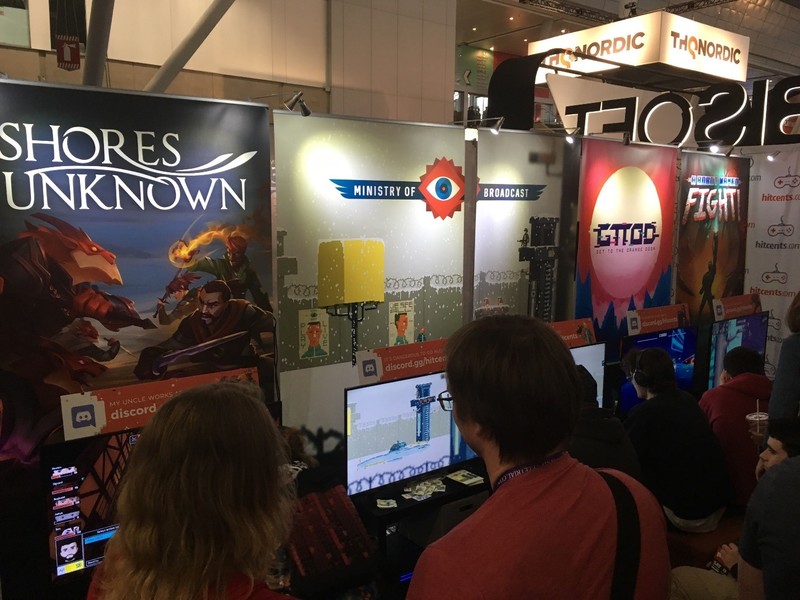 Side B of the Hitcents booth. We had to replenish the pins, stickers, and postcards fairly frequently, which was totally awesome.
Speaking of what didn't work, here's a quick list of what we learned concerning demos, tech, and booth functionality:
Make sure to configure sleep/screen timeout settings so that the machines don't ever power off on players.
iPads should use guided access to lock users in the demo app. If not, you will have so many attendees exit out into the home screen when attempting to restart the demo.
We used corded Xbox controllers plugged into the laptops for the majority of the demos. One thing to note about this is that the Xbox home button will bring up a menu that allows users to exit the demo completely, which many did in their confusion to restart demos.
Demos should be around 5 minutes of gameplay MAX. PAX is huge and attendees prefer to sample a ton of stuff, not spend 30 minutes in one place when possible.
Demos shouldn't have any long cutscenes. See above. Demos should give a small taste of the game, not lay out the entire story. Long cutscenes are unnecessary and undesirable. Especially if they are unskippable.
All cutscenes and dialog in demos should be skippable. I cannot quantify how many players I witnessed mashing buttons in an attempt to hurry along dialog and cutscenes.
Demos shouldn't have long dialog sequences. Unless your game is one about talking incessantly, that's not what attendees want. They want quick, engaging entertainment full of action.
Control tutorials should either be very short, nonexistent, or displayed as a controller map printout in front of the station. Lots of impatient button-mashing during these parts as well.
Crashing demos happened. Whether because of glitches or hardware malfunctions, they happened. We had one computer mouse on hand to run in and get it running again, but that took time and was a major hit to the pride. Previous testing could have prevented much of this, but again time was very short.
Always have a backup plan if a game demo crashes and refuses to reopen (or is too buggy to run as intended). We solved this issue by uploading a different game's demo into those stations or setting the demo to where only certain glitch-free modes could be utilized (such as taking out 2p options on a demo that'd crash when playing together if both characters died).
Have a way to download and install new builds when necessary. Using your cell phone as a hotspot isn't always going to fly (however, in this case it did).
More intuitive guidance for attendees concerning our booth layout is necessary. A sign stating that they could take any swag that they wanted would have probably helped us to distribute much more of our pins, stickers, and cards than we managed to. People are afraid of assuming that things are free only to be told they'd have to pay for them, which is understandable from someone who has social anxiety.
While we maximized our space to the stars of the show (our games), we do need to make personal storage spaces more accessible next time around. We had one power outage due to the mountain of stuff nestled between the banner walls flipping the power. Also, all of those stacked things were a risk to knocking the banner stands over and made it difficult to walk in that space if/when necessary. Using the ottomans for personal storage was also inconvenient to access, seeing as there were almost always people perched atop them at all times.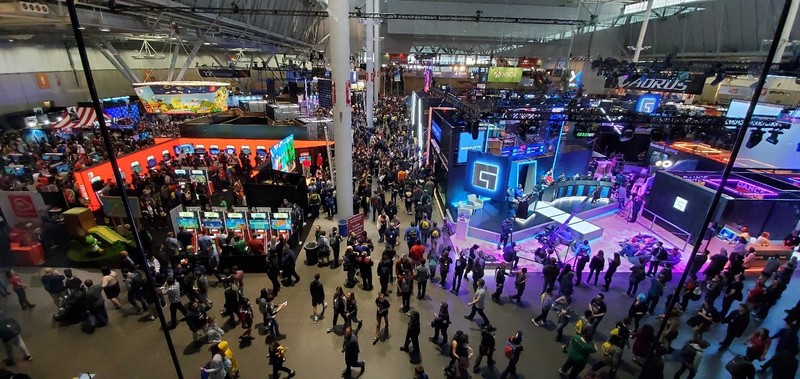 A view from the glass hallway bisecting the expo floor.
And here are some things that worked really well:
Looping, eye-catching trailers that played while the demos were not being played were great. Some passers-by would stop and watch the entire trailer without playing the demo, but they'd still collect the info cards, stickers, and pins, so we counted that as a win.
Leaving controllers and headphones on the seats of each station after players were finished was a nice touch and made the games look more inviting. We noticed much more demo interaction this way.
Always having someone playing the demos invited more traffic. Whether it was attendees, devs, or Hitcents crew.
Half shifts worked really well at preventing PAX burnout for all of us working the booth. Unfortunately, we didn't implement this until the final day when we were already pretty beat. Ultimately, with shifts everyone will feel more organized and rested (and fed and hydrated).
Talking with attendees. Talking to people usually pulled them into the booth when it looked as if they were about to leave. Don't misconstrue this with pressuring people to play your demos. Usually, commenting something small to the PAX goers that were slowly wandering by while looking interestedly at the booth was enough.
Our booth itself! The eye-catching colors of our banners, fun demos and trailers, and softer-than-sitting-on-the-ground seating really drew people into our booth, even if they didn't play any demos. Also, offering a strong variety of demos really worked well in targeting many different types of gamers.
Other things to remember for working PAX:
Don't forget to pack scissors in a clearly labeled easily accessible location. Or your hands will end up looking like you trying to play patty cake with an army of super scratchy kittens. This is important enough to mention twice.
First-aid kit. Paper cuts, scrapes, blisters - they'll be making an appearance. Have a surplus of adhesive bandages ready to go.
Hand sanitizer - use it, and use it often. The PAX Pox is real.
Take your vitamins and pay attention to your nourishment. Take care of your body because PAX. POX. IS. REAL.
Hydrate, hydrate, hydrate. Drink water and then drink some more. When you think you've drank enough, you didn't. Trust me.
Get enough sleep. We all want to party, but you have to be your best, most extroverted self to draw people into your booth. Sleepy Joe yawning and looking like a calcified zombie ain't gonna cut it.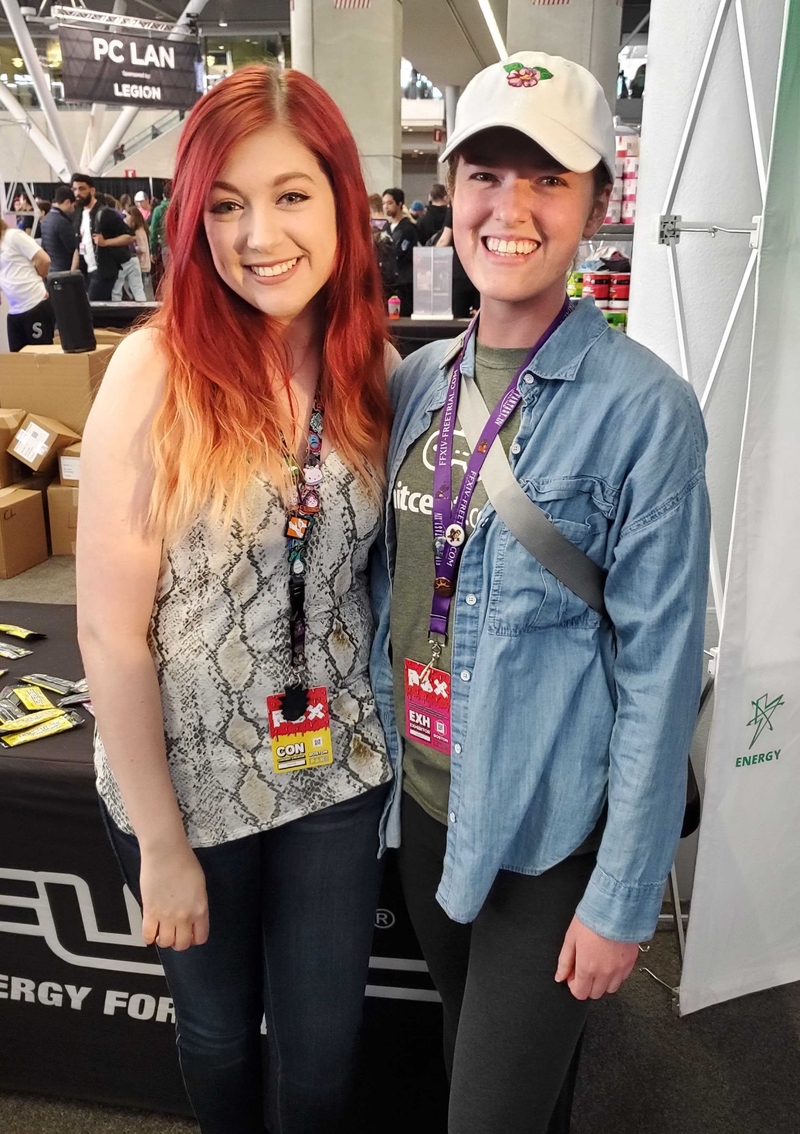 Our community manager was able to meet one of her favorite Twitch streamers - Cahlaflour!

We also had the chance to meet with some truly magnetic personalities and talented individuals during PAX. One of our main goals was to make meaningful connections with content creators and press, and we were able to achieve that due to the amazing people who scheduled appointments with us, as well as those who spontaneously stopped in! Here are a few of the awesome folk who we were able to hang with (linked with their Twitter handles):
Mixer content creators:
@LastMageTV
@BeeYooHQ
@ELSock
@XenAndCL
@TheOnlyTachyon
@MrTrendGaming
@PXAbstraction
Twitch content creators:
@KosmykTrigger
@InstaGatorTV
@TrueGameChanger
@JBMagicTV
@MBash26
Games journalist:
@NindieSpotlight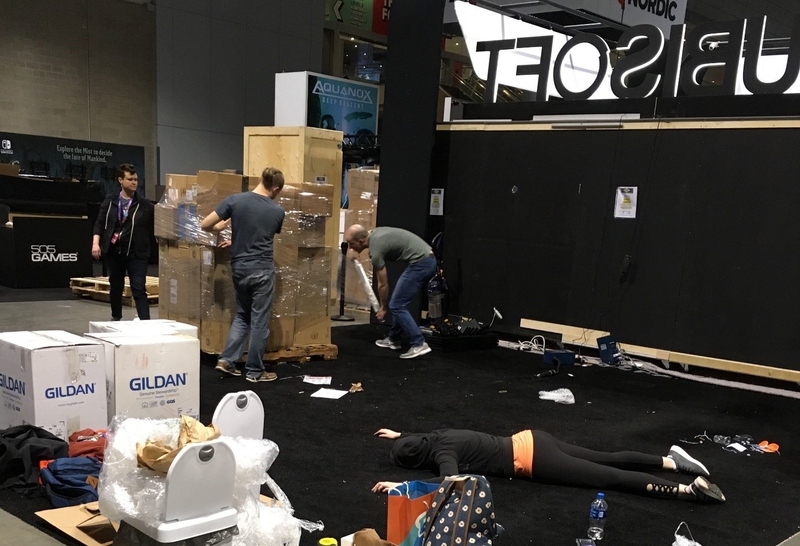 One perished content writer later, we managed to get our whole booth packed up and everything onto our pallets.
In retrospect, PAX East passed entirely too quickly. We met loads of amazing people; our visiting devs, booth neighbors, content creators, press, and friendly attendees making the time pass as if we were spending a weekend hanging with our pals. Were there things we'd do differently? Sure. But overall, it all fell into place and we did what we set out to do: present the games our hardworking devs have been pouring their souls into. While dismantling our booth in weary yet contented silence, packing everything away into their boxes and contemplating a late dinner to celebrate a PAX well done, there was almost an air of sadness. There's nothing quite like the gaming industry.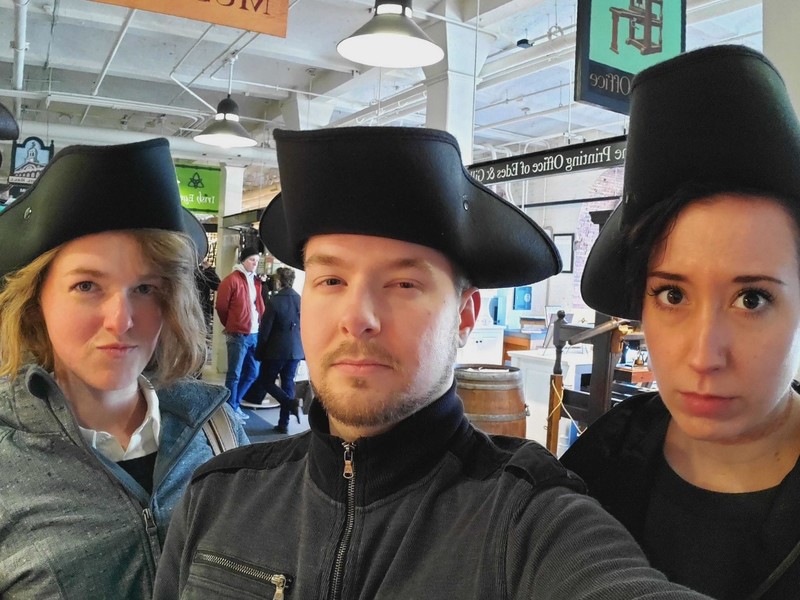 I don't want to point fingers, but I don't think someone knows how to properly wear a tricorn hat.
LAST DAY IN BOSTON: It's Cold and Windy
We were going to spend our last day in Boston exploring and adventuring, walking The Freedom Trail to experience a little of US history. However, it was exceptionally cold and windy, and as we are not very good at handling mild discomfort within good spirits, we changed our plans. Instead, we ate like four times, shopped, visited some museums, and ate some more. One of the coolest places we visited was Union Oyster House, which is America's oldest restaurant and had some of the best food we'd had in Boston. It was a wonderful cap to our trip.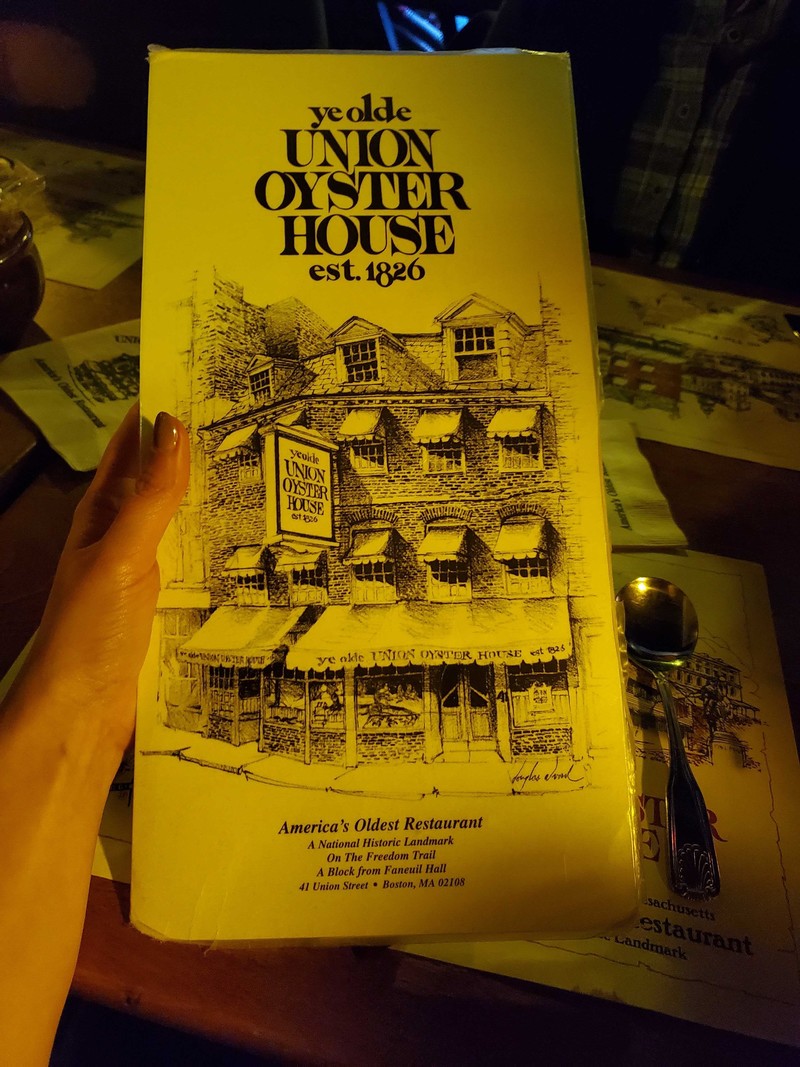 America's oldest restaurant! We rated it 11/10.
WE MADE IT
We all arrived to our respective homes late Tuesday night after an airport nap or two, a couple of plane rides, and an hour drive later. Most of us came down with some sort of PAX Pox, but overall we survived and came out on top of it all.
Time to get ready for the next convention! (Looking at you, DreamHack Dallas.)