ATTENTION VALUED CITIZENS: Our benevolent Leader has gifted our beautiful nation with exciting new government-approved programming. Please tune in and enjoy. Enjoyment is mandatory.
We have officially partnered with the daring, darling dev team, Ministry of Broadcast (MoB), to bring their game-of-the-same-name, Ministry of Broadcast, to Nintendo Switch and Steam. This 2D dystopian cinematic platformer, rife with dark humor and sarcastic quips, is slated to release Fall 2019. Should the Regime allow it, of course.
Ministry of Broadcast follows an unnamed, ginger-haired protagonist as he attempts to reunite with his family by crossing a Regime-constructed barrier splitting the country in two, known as The Wall. To do so, he must compete on, and win, The Wall Show—a mysterious reality TV show aired only in the free lands on the other side of the barricade. Participating in a government-organized contest to escape a deceptively charming dystopia is already cause for unease, but, much to his chagrin, our ill-fortuned protagonist has also lost his only pair of boots. With a perfectly coiffed mane, the capricious comradery of a cheeky crow, and the courage to climb across rather delicate scaffolding, will our carrot-topped champion see victory?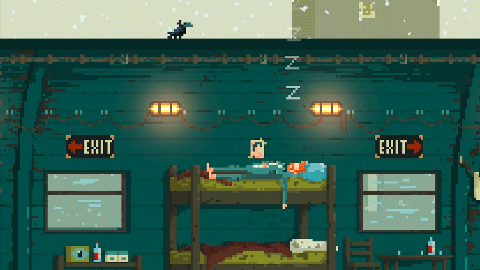 Inspired by games such as Prince of Persia (1989) and Oddworld: Abe's Exoddus, Ministry of Broadcast revives the spirit of classic cinematic platformers where players need nimble run-and-jump reflexes as well as a healthy aversion to falling from precarious heights. To reach freedom and family, you must lead the protagonist through each of the Arenas while under the ever-watchful mechanical eye of the Regime. The variety of hazardous, dilapidated environments hold an array of obstacles for you to manage—leg-shattering drops (scared of heights?), flaming barrels of garbage (extra-smelly, extra-flamey), inconveniently-placed spike pits (of course), hanging steel beams (so much rust)—but none of this is to speak of the fates of those you meet along the way.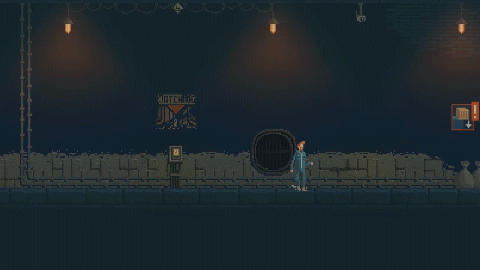 Like cheese and a fine wine, or a fascist Regime and an oppressed populace, gameplay in Ministry of Broadcast has been expertly paired with a pointedly purposeful art style. Each room, obstacle, and daring leap have been handcrafted by the developers; their intent runs deep, to such a point that they've even eliminated the need for any sort of HUD. Staying true to the game's cinematic style, the screen is never cluttered with overlaid indicators. Instead, hints and guides are cleverly woven into the landscape, encouraging you to scan for clues especially as the game's difficulty advances in later Arenas.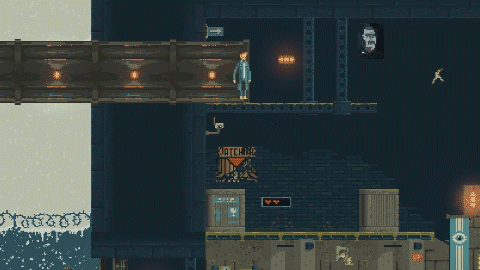 MoB, the team behind Ministry of Broadcast, consider themselves masters of dark depravity and debonair humor. Located in the Czech Republic, this tight-knit group collaborates on the narrative, level design, and game mechanics. On an individual basis, Sanja and Dušan Čežek spearhead the art design while Petr Škorňok and Petr Melicherík handle development. The team is proud of what their game has accomplished thus far, having already won or been nominated for a number of awards at conventions the world over—"Best Gameplay" and "Best Art" at the 2018 Game Access Conference in Brno, "Best Story", "Most Original", and "Best Desktop" at the 2018 Game Connection Conference in Paris, and "Official Selection" at the 2018 Santa Monica Indiecade. 80.lv and Gamology, amongst others, are also saying nice things! We're looking forward to Ministry of Broadcast becoming one of the most insightful, celebrated indie titles of 2019!
Stay tuned for the latest news on Ministry of Broadcast by joining the Hitcents' Discord and following @Hitcents and @ofBroadcast on Twitter. You don't want to miss this perfectly pixelated ginger 'do rippling in the wind as our mustached contestant runs, jumps, crashes, and climbs his way through your soon-to-be favorite dystopian reality TV show. Coming Fall 2019 on Steam and Nintendo Switch!