Master U.O.M.U. and Hitcents pair up to tear down the apocalypse in LVL99: AxeRage
"What would happen if all apocalypse scenarios occurred at the same time?"
LVL99: AxeRage drops us at ground zero right in the heart of that question. We're thrilled to be partnering with the creators, Master U.O.M.U., to bring their brutally challenging 2D Action-Platformer to console and PC early next year (official dates are TBA - follow us on Twitter to stay up-to-date!)
Inspired by movies and video games of the 80s, when action was bloody and gameplay unforgiving, LVL99: AxeRage thrusts you deep into the midst of destruction. Take the axe as Cheins, a renegade firefighter raging to save his homeland, and battle tirelessly against converging apocalyptic scenarios unleashed by warring alien factions.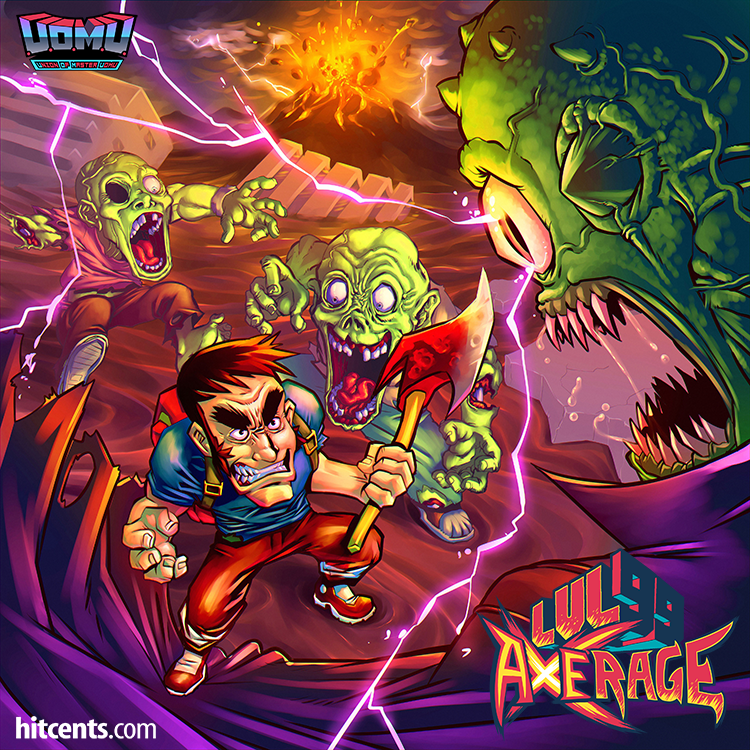 Cheins is brave enough to step on the cape of an alien overlord, and angry enough to beat him up if he says anything about it.
With brute force, some Selk'nam deity supernatural intervention, and a radioactive dog, players will free the earth from unrelenting waves of zombies, mutant monsters, and evil robotic aliens. For fans of multiplayer, AxeRage will offer a 2P Mode for intense couch co-op sessions.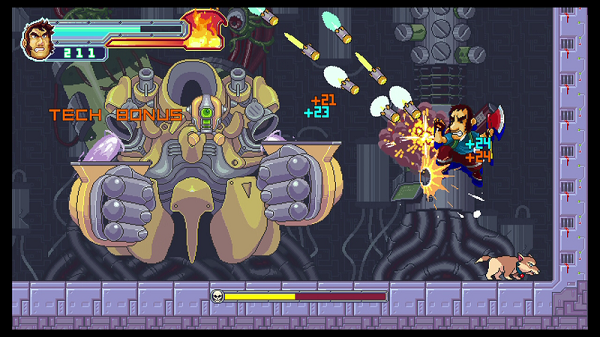 Shoo, that's a big ol' robot.
While it's currently still in development, Master U.O.M.U. (Union Of Master U.O.M.U., for the uninitiated) is gearing up to release the hyper-challenging LVL99: AxeRage experience upon the world in Q1 2019. The team is comprised of a tight-knit band of long-time friends hailing from Santiago, Chile. Catch the three of them on Twitter: @Omegachainoboy (Artist), @Don_Brutalo (Lead Developer), and @FelipeChoque (Artist).
Press kit and other juicy assets can be found here: dropbox.com/AxeRage
For more development news, feature announcements, and release updates, stay tuned in to @Hitcents!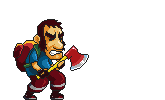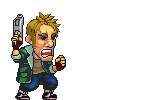 My goodness these are some sweet GIFs.