Duke of Defense, a playful action-based tower defense game developed by Sebastian Nigro and Christopher Anselmo, launched this past May. Brimming with ample humor, cheeky villagers, and egotistical wizards, Duke of Defense also boasts a radical synthwave soundtrack that truly delivers. Below, we interview Christopher Anselmo — full stack web dev, musician, and indie game dev extraordinaire who created the art and music for Duke — about his experience as a video game musician and the soundtrack he created for the game.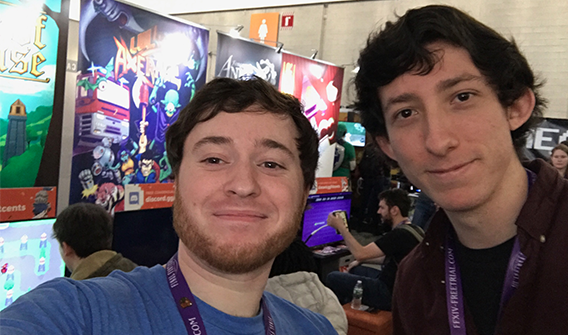 Christopher Anselmo (left) and Sebastian Nigro (right) pose in front of their game, Duke of Defense, at PAX EAST 2019.
---
When did your love of music manifest? Do you have any formal training?
Christopher Anselmo: I've really always loved music! I was always tinkering with the family piano when I was young, and over time tinkering just turned into a passion for learning more. I have taken some musical classes, but I have no direct formal training outside of vocal training from when I was still in high-school.

What genre of music do you consider Duke of Defense to be? Who or what are your major influences?
CA: The music in Duke of Defense is kind of tough to label with a specific genre, being that the soundtrack has so many different styles. Some of the music sounds very electronic and synth-y, but there are a few tracks that are focused around these really heavy electric guitar riffs. I don't think I can really pin a specific genre to the soundtrack as a whole. When writing the soundtrack, I didn't really gather inspiration from a specific source in an effort to make the music really unbiased. Really I just wanted the soundtrack to have a unique sound. That being said, my favorite composers in the video game realm are Grant Kirkhope (Banjo Kazooie) and, of course, Richard Vreeland, also known as Disasterpeace (FEZ).

What instruments and music-making tools are you skilled with?
CA: My primary instrument of choice that I am most comfortable with and also use to write nearly all of my music with, is piano/keyboard. I do however practice and collect many different instruments! Some of them are ukulele, manolin, cajon, melodica, guitar (acoustic and electric), and bass guitar. I also enjoy singing, although I don't know if I'll ever be able to utilize that in a video game soundtrack! For those who are curious, I do all of my music-making on a software called Reason by Propellerhead.

How did you decide to pursue creating music for video games? How did you go about finding games to work on?
CA: When I began going to college, my major was actually in music. I went to community college for about two years and ended up changing my mind and dropping out to pursue a career in programming. I went on to get a web development job, but I was heavily involved in the indie game development scene and still loved to create music for games as a hobby. I ended up meeting and becoming good friends with Sebastian Nigro, who at the time needed a musician for his game Don't Sink. I kind of fell into composing the soundtrack for that game, and after it was done we knew we wanted to keep working together, with me doing the music for future games. Really, it's about who you know with indie game dev, especially as a musician. I started out by just getting involved with the community, participating in events, building up a portfolio, and just getting to know as many people as possible. Meeting Sebastian and really taking on game development as a job really wasn't something I was actively searching for, it just happened at the right time and place for me.

What did your creative process with Duke of Defense look like?
CA: My creative process for the game was pretty straightforward, to be honest. I would sit down at my desk, look at the way the game looked at a particular section and just starting playing music with the art or screenshots open. I would hit record, and then make things up on my keyboard until I heard something I liked! Then I would go back, clip out everything else, and try to build a song around that one part. Some of the music was made to work specifically with cutscenes, and in those instances, I would wait until the cutscene was finished, and get a video recording of the cutscene from start to finish. Then I would make the music entirely around that. It may seem subtle, but I really wanted the cutscene music to sync up to what was happening visually.

What did you struggle with most when first getting started? What do you struggle with the most now?
CA: When I first got started with game music, I really struggled with the structure of music. Before tackling game development, I liked to write music with a more typical structure, like repeating chorus sections and other patterns you might hear on the radio. With games, however, typical songwriting patterns don't really apply in the same way, you have to think about how to structure a piece so that it sounds right in the context of the game rather than on its own. One thing I really struggle with now is knowing when to stop with a particular song. Many times I'll just want to keep adding and adding, but it's important to know when to call a song finished. Sometimes less is more!

Duke of Defense was recently featured at the Hitcents booth during PAX East 2019. The game garnered a ton of attention from attendees wanting to try the demo! What can you tell us about your PAX East, and subsequent Reddit, success? How do you think your game benefitted from being at the convention?
CA: I consider myself very fortunate to have been able to attend PAX East! It was an amazing experience to meet Sebastian and the Hitcents crew in person, and of course to interact with fans and see people enjoy the game first hand. Being able to watch people get excited and enjoy the game in person is really an indescribable experience, and I'm so happy I was able to share that feeling with other people through Reddit with my post about the father and son who played the game. Obviously, by showcasing the game at PAX East we were able to get more eyes on it in general, both by attendees and people that saw the Reddit post. Another great advantage of being there in person was that we were able to directly consume feedback from players and really get a feel for what people enjoyed about the game, and what aspects of the game could be improved. We definitely reflected on the feedback we received at the convention and were able to make some meaningful changes based on that feedback.

What advice would you give to others who wanted to get involved in music composition for video games?
CA: Get involved in the indie game development scene! Join a Discord server, get to know other developers, participate in game jams and competitions, and build a portfolio. Get out there and meet as many people as you can, and always be making more music!
---
---
Duke of Defense is presently on sale for only $2.99USD on the Nintendo eShop! The sale runs from 7/25 through 8/2. And we leave you with this bonus song from the official Duke of Defense soundtrack: a metal cover of the main theme song! Prepare for maximum awesomeness. Thanks for reading!