This weekend, we're getting in touch with our inner Texan at DreamHack Dallas! The Hitcents crew is bringing our rambling caravan of games to this one-of-a-kind gaming festival May 31st through June 2nd.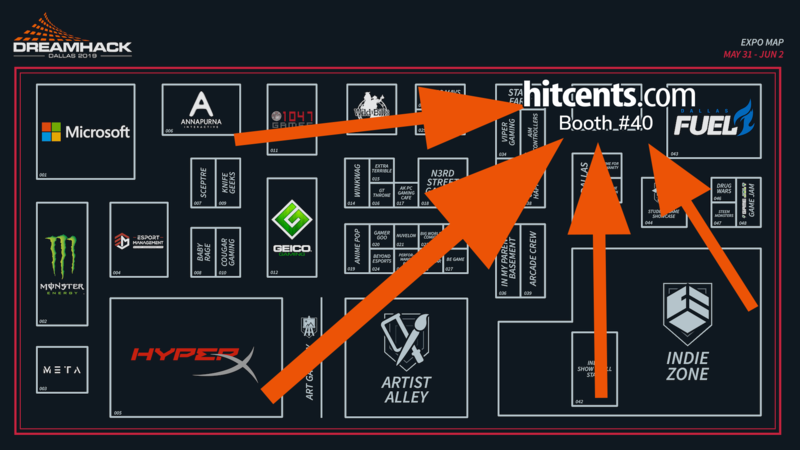 Known for hosting one of the world's largest LAN parties, DreamHack Dallas truly offers a unique experience for gamers and digital enthusiasts. The three-day festival hosts a 24-hour sprawling LAN party all weekend long for guests to game with friends new and old. In addition to LAN, the festival features esports, cosplay competitions, tabletop gaming, console gaming, pc gaming, panel discussions, live music, and a huge expo hall (which is where we come in).
If you or you're friends are attending this year, be sure to stop by Booth #40 (right across the way from the Rocket League tournament) to play some of our spicy demos or purchase our never-before-seen merch! That's right folks, we're talking t-shirts, notebooks, posters, pins, puppies - you name it! Well, maybe not that last one. But we will have a real-life auctioneer in charge of sales. Okay, no we won't, but that would be pretty cool. We do have free stuff, though - some buttons, art card collectibles, maybe some stickers, and definitely high fives. Please note that high fives are by request only since the unspeakable incident at PAX East 2019.
For more details on our appearance at DreamHack Dallas, general Hitcents info, info on our games, or to laugh at our recent attempts at humor and wit, follow us on Twitter and chat with us on Discord. See ya later, lil gamers!